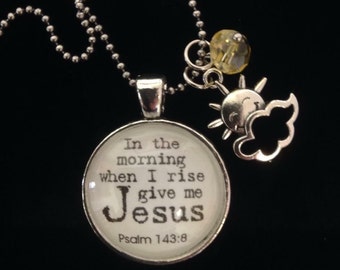 Just give me Jesus
Prayer for Deliverance from Enemies

A Psalm of David.

Hear my prayer, O Lord;

give ear to my supplications in your faithfulness;

answer me in your righteousness.

Do not enter into judgment with your servant,

for no one living is righteous before you.

For the enemy has pursued me,

crushing my life to the ground,

making me sit in darkness like those long dead.

Therefore my spirit faints within me;

my heart within me is appalled.

I remember the days of old,

I think about all your deeds,

I meditate on the works of your hands.

I stretch out my hands to you;

my soul thirsts for you like a parched land. Selah

Answer me quickly, O Lord;

my spirit fails.

Do not hide your face from me,

or I shall be like those who go down to the Pit.

Let me hear of your steadfast love in the morning,

for in you I put my trust.

Teach me the way I should go,
for to you I lift up my soul.

Save me, O Lord, from my enemies;

I have fled to you for refuge.

Teach me to do your will,

for you are my God.

Let your good spirit lead me

on a level path.

For your name's sake, O Lord, preserve my life.

In your righteousness bring me out of trouble.

In your steadfast love cut off my enemies,

and destroy all my adversaries,

for I am your servant.
Most days, I really do not know what I want. That may seem silly or stupid to you, but it is true. I'm exactly the type of person who stands in line at McDonald's for hours trying to decide what kind of burger to order… no I have a coping mechanism of either getting the same thing every time or defaulting to whatever seems new. In either case, I am usually not incredibly excited about what I get. Sometimes I feel like one of the purposes of my life is to figure out what I really want. I hope I find out before the end.
I have enemies. Some of them I have loved into friendships. Others have been washed away by time and circumstance. The worst of my enemies wear my own face, sleep in my bed, eat my food, and pull me down from a place that few can see. I cannot run from them. I cannot hide. I can only endure and lift up my soul when the tide rises too high.
Where the Spirit of God swoops down to catch me up…
My problems are nothing compared to King David's. My enemies are few and powerless by comparison… but I can relate to the call for help. Notice though that David asks for more than just salvation from trouble. He asks for guidance and refuge. He ends declaring himself as God's servant. David's prayer was to be saved to serve.
How do you pray?
Do your prayers for help connect with a desire to serve God?